Cover
Flyleaf
Online Edition
---
Title Page
Imprint
Message
Tribute
Foreword
Table of Contents
Contributors
Sir Lindesay Clark
Introduction
---
Index
Search
Help
Contact us

Sir Lindesay Clark An Appreciation

Gordon Colvin Lindesay Clark, AC, KBE, CMG, MC, FTS, HonDEng, HonLLD, HonMAusIMM, HonMIMM, BSc, BME, MME (1896-1986) made an extraordinary contribution to Australia's mining industry, extending over almost fifty years, during which he won the respect not only of his peers but also of the many thousands of people in the enterprises with which he was associated.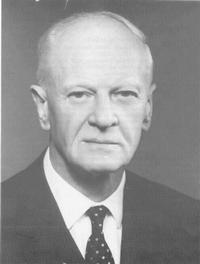 1 Sir Lindesay Clark, AC, KBE, CMG, MC, BSc, MME, HonDEng, HonLLD
He always encouraged new ideas and innovative thinking and inspired people to bring out the best in themselves. He insisted on using the best available technology. He had an alert mind, with an extraordinary capacity for technical detail. He had the courage to make difficult and sometimes unpopular decisions when the need arose. But he is remembered most of all for the encouragement and enthusiasm that led many others to follow the exciting trails he helped to blaze. Above all, he was a very humane person with a deep interest in the welfare of others, notably those in remote mining areas, whose problems and hopes were always of concern to him.
Lindesay Clark's own early life had given him an insight into those problems. He spent his childhood in parts of Tasmania that we might not now regard as remote, but which certainly were at the turn of the century. Although he was born in Melbourne, on 7 January, 1896, his father was at the time Manager of the Mt. Lyell mine, and when he was about six weeks old his mother took him there by ship, across the treacherous bar of Macquarie Harbour. At that time Robert Sticht, who was later to take over from dark Senior as Manager at the mine, was in charge of the smelters, and yet to develop the pyritic smelting process for which he became famous.
After about four years at Mt. Lyell, the Clarks went back to Melbourne for a short period, then to the tin mines of north-eastern Tasmania, including the famous Briseis mine. One of Lindesay Clark's earliest memories of life there was that miners who felt like a bit of a fling walked the 100 kilometres to Launceston, and were thought by their mates to be pikers if they could not do it in twenty-four hours.
As in many mining communities of the time, conditions at Briseis were primitive, and Sir Lindesay's mother took strong exception to the collection of huts the company provided as the manager's residence. His father solved that problem by taking on the extra task of managing the nearby No. 1 Brothers Home mine, provided he and his family could live in the 'pretty decent house' on the site. That lasted only until the mine workings collapsed, leaving the house on the brink of a cliff. For a time the Clarks had to move back to the huts. Fortunately by then the mine had been proved to have a long working life before it, and the owners built a decent house for their manager.
Lindesay Clark had a governess until he was twelve, then went to Launceston Church of England Grammar School. At sixteen he moved to Hobart and the University of Tasmania, where he graduated in 1915 as a Bachelor of Science. In 1916 he enlisted in the Australian Imperial Force (AIF) and after a period of training in Australia and England went to France as a sapper in the 2nd Field Company of the Australian Engineers. He was commissioned in the field at Ypres in 1917 and awarded the Military Cross in 1918.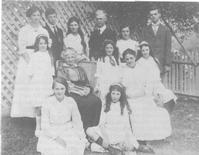 2 A family group in Tasmania about 1915, with Lindesay Clark on the far right, his father in the centre and his mother (seated) on the left.
---
People in Bright Sparcs - Sticht, Robert Carl



© 1988 Print Edition page xiii, Online Edition 2000
Published by Australian Science and Technology Heritage Centre, using the Web Academic Resource Publisher
http://www.austehc.unimelb.edu.au/tia/xi.html