Table of Contents
---
Chapter 5
I
1788 - State Of The Art In Textile Technology
II
Australian Textiles - The Early Days
III
Australian Textiles - The 20th Century
IV
Australian Textiles - To Date
V
Acknowledgements
References
---
Index
Search
Help
Contact us

Chapter 5 - Australian Innovation in Textile Technology

One textile fibre -wool -has dominated the development of trade from Australia for the most part of its first 200 years, but it is perhaps not so widely known that another fibre -flax -probably played a very important role in its initial settlement. When Captain Cook returned to Britain in 1771, he reported finding the New Zealand Maoris well clad in garments made from the fibre. At that time, of course, the British Navy was the dominant force internationally. Maintaining the ships in proper supply was an important consideration, and in the late 18th Century Britain's traditional supplies of flax (from the Baltic countries) for making sailcloth, canvas and rope were under threat. In announcing the decision in 1786 to colonize Australia, Lord Sydney used the argument that the new colony would provide a sure supply of flax which 'would be of great consequence to us as a naval power'.

Indeed, Professor Geoffrey Blainey[1] has argued that Australia's ability to grow high-quality flax and the Norfolk pines for ships' masts were the real reasons for establishing the colony, rather than the need to find a dumping ground for convicts.

As we shall see, however, the efforts to cultivate and process flax were not very successful, and it is the wool fibre which has had so much influence. From 26 merino sheep brought by Captain Waterhouse from South Africa in 1797, the Australian sheep flock had grown to over 140 million animals in 1985/86, with a peak of 170 million in the early 1950s (at the time of the Korean War). Throughout most of the growth of Australia, wool has been its main export, only in comparatively recent times being overtaken by coal. In 1984/85, wool production was 727 mkg (greasy weight), and the fibre accounted for approximately 10 per cent of Australia's total exports. Internationally, Australia enters its third century as the world's largest wool producer, accounting for approximately 25 per cent of the world's production.

Cotton is another important crop today, but it was not until the early 20th Century that it became a viable agricultural business. The plant was actually carried by the First Fleet, but efforts to cultivate it were thwarted by environmental and pest problems until, after much research, strains were found that were compatible with the climate. The 1970s saw considerable expansion of the cotton-growing industry, so that now cotton is also an important export, albeit Australian cotton accounts for only about 1 per cent of world supplies of the fibre.

Fibres are the raw materials from which textiles are made, and conversion of the raw fibre into a textile fabric or garment involves a number of distinct steps. Although the technology of these steps has changed dramatically over the past 200 years, their objectives in general have not (Fig. 1). Thus, fibres are cleaned; impurities such as vegetable matter (from wool) or seed (from cotton) are removed; the fibres are straightened and aligned with each other; twist is inserted to form a yarn; the yarns are woven or knitted into fabric; colour is applied at some stage for decoration; and the garment or other textile item (e.g. pillowcase) is cut and sewn from the fabric.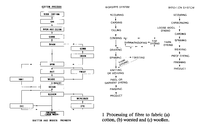 1 Processing of fibre to fabric (a) cotton, (b) worsted and (c) woollen
---
People in Bright Sparcs - Cook, James; Waterhouse, Capt. Henry



© 1988 Print Edition pages 253 - 254, Online Edition 2000
Published by Australian Science and Technology Heritage Centre, using the Web Academic Resource Publisher
http://www.austehc.unimelb.edu.au/tia/264.html