What if you could predict the weather months or even years ahead? The possibilities of long-range or seasonal forecasting have held lasting fascination for the Australian public. Meteorologists have been sceptical of many supposed cycles and systems, but our growing knowledge of El Niño has finally revealed some of the long-term patterns in our weather.
Australia's climate has gained an increasingly global perspective. From early research in Antarctica, through participation in the International Geophysical Year and the Global Weather Experiment, on to current work on the Southern Oscillation, meteorological researchers have sought a broader understanding of the systems that shape our weather.
Global warming has also focused attention on the context of climate, and the need for a long-term approach. But in studying the implications of climate change, we look to the past as well as the future. The observations painstakingly recorded by thousands of meteorological workers over the past two centuries provide a vital record for researchers.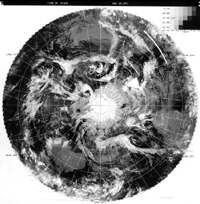 Night time infra red image of the Southern Hemisphere for May 19 1971 (see Neil Streten, 'Antarctic Operational Meteorology'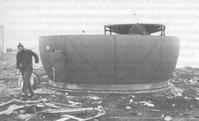 Installation of the WF2 radar at Macquarie Island, February 1968 (see 'Stories of the Bureau's Radio Technical Officers from 1948')