Sir Ian Clunies Ross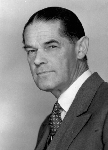 Ian Clunies Ross was acknowledged as one of the great leaders of Australian science. As Executive Officer of CSIR 1946-49 and Chairman of CSIRO 1949-59 he led Australia's premier research organisation through one of its most productive periods.
Events in 1999 celebrating the centenary of his birth:
Clunies Ross Postal Issue - 11 February 1999. On this date Australia Post did a national release of the Clunies Ross postal issue.
"Ockams Razor" Radio Special - 20 February 1999. Robyn Williams of ABC Radio National interviews Dr Oliver Mayo about Clunies Ross.
International House Founders Day Garden Party - 5 March 1999. Clunies Ross was the first Chairman of the International House Council (University of Melbourne) and played a pivotal role in its formation.
Clunies Ross National Science & Technology Award - 30 March 1999. A presentation dinner at the Hotel Sofitel, Melbourne, organised by the Ian Clunies Ross Foundation.
CSIRO Animal Production Open Day - 1 May 1999. An Open Day at the Ian Clunies Ross Research Laboratories, Prospect New South Wales.
Tall Poppies Dinner - 27 May 1999. At the Palladium Ballroom, Crown Entertainment Centre, Melbourne and organised by the Australian Institute of Political Science, celebrating the centenaries of the birth of Sir Frank Macfarlane Burnet, Dame Jean Macnamara and Sir Ian Clunies Ross.
Take a look at his Encyclopedia of Australian Science entry to find out more about his life and contribution to Australian science and the general community, as well as links to other resources, available both online and offline.